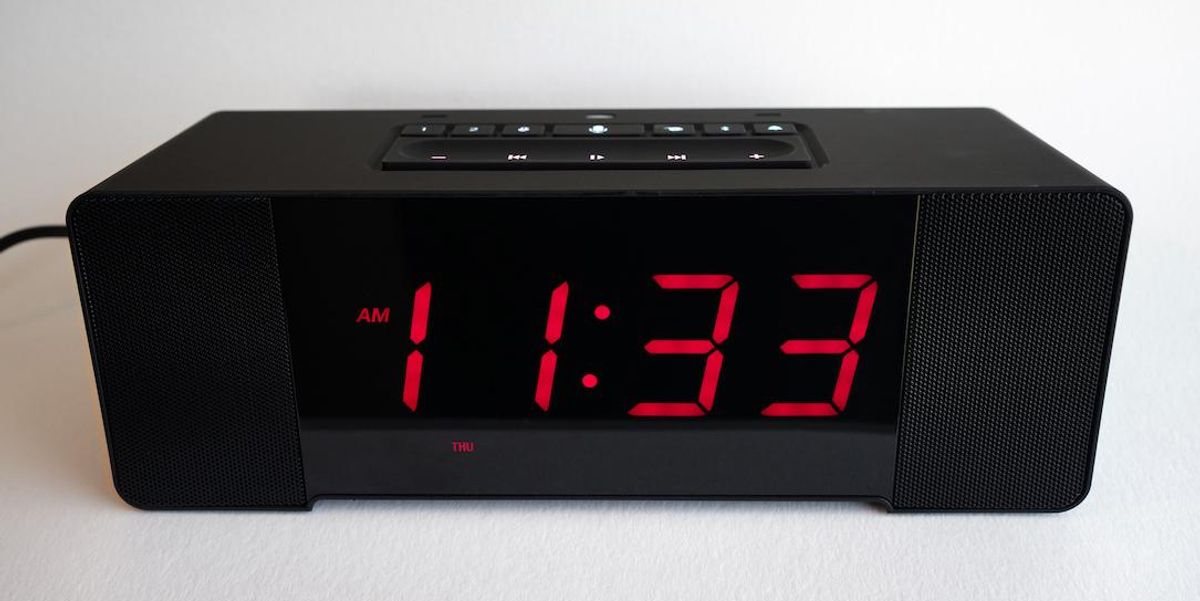 Review: Sandman Doppler USB Charging Smart Clock for $ 199.99
Hybrid digital devices combine two or more previously separate technologies into one device. For example, camera manufacturers have tried for years to create devices that capture both still photos and video clips with equal quality. They never managed to produce such a product (before 2008). But Apple did it with the iPhone, which not only took photos and videos, but also played music, had a clock, a calculator, could send emails, and more. Oh ! And you could also make phone calls and send SMS!
These days, digital smart clocks, like the Sandman Doppler USB charging smart clock, are also hybrid devices, but they have a different mix of technologies – you have two rather basic types of technologies – digital clocks, which display the current time and give you the option to set alarms to wake you up in the morning and a charging station. These two core technologies come together with features that are both, in different ways, on the other end of the spectrum, as there are potentially many more variables that go into making them.
The Sandman Doppler includes easy-to-follow, large print steps that are very helpful in getting you up and running quickly.Terry Sullivan / GearBrain
First of all, the Sandman Doppler is a wireless speaker – and the quality of wireless speakers can range from speakers that produce sublimely resonant sound to ones that sound thin or harsh. Second, this smart clock is "smart" because it can be paired with one of the world's most important digital assistant technologies: Amazon Alexa.
So, in this review, I'll be focusing on the features that worked as well as those that just need work or more work. But it can also be useful to ask yourself: what features are most important in such a hybrid device? That's because I think some consumers might just focus on digital clock functionality, while others might be looking for a smart device to interact with their smart home ecosystem.
In the box and set up
When you open the box, you will find easy to read instructions on how to unpack the Sandman Doppler safely, so as not to damage it. In addition to the main rectangular unit, which measures 11.6 x 4 x 4.7 inches, it also comes with a large adapter and a "brick" AC / DC outlet. I was impressed with how the manufacturer went out of their way to help consumers configure this device by printing each of the four steps in large print, right on the box. They also included QR codes to access the user manual (which is online) and to download the app to your mobile device. This made downloading the app a straightforward process.

This clock has large, clearly labeled buttons. The top row has buttons to set alarms, connect to Bluetooth, turn the microphone on and off, and turn on Amazon Alexa. The bottom row contains the media controls, which allow you to increase and decrease the volume, play, pause, go forward or go back to a specification.Terry Sullivan / GearBrain
Sound quality and mobile application
As for how most consumers use a smart clock, I think it's safe to say that most would find the audio quality of its speaker relatively important, but I don't think they would consider it. as the most important factor in choosing one.
Still, the product's website and packaging indicate that the speaker has "big sound with good bass." Unfortunately, it is not the case. Overall the sound was clear and not muddled or muffled, but it had a compressed quality that lacked full bass. This compressed sounding audio was also lacking some of the finer detail you would also hear in some mid and high tones.
In the online manual for this smart clock, the company suggests that you download the mobile app for this clock, called the Sandman Clocks mobile app (compatible with Apple iOS and Android devices). This lets you connect via Bluetooth then Wi-Fi, and it lets you open and then connect the Amazon Alexa app.
However, your progress depends on a secure and reliable Bluetooth connection, and this is something I haven't experienced, at least with my Apple iPhone 12, which often drops the Bluetooth connection. I felt I had a better experience when I used a Google Pixel 3a phone to connect to my networks, including Amazon Alexa. Better yet, I think the app needs to be reworked so that you can still use the app if there is a problem with the Bluetooth functionality. At the very least, you must have more options.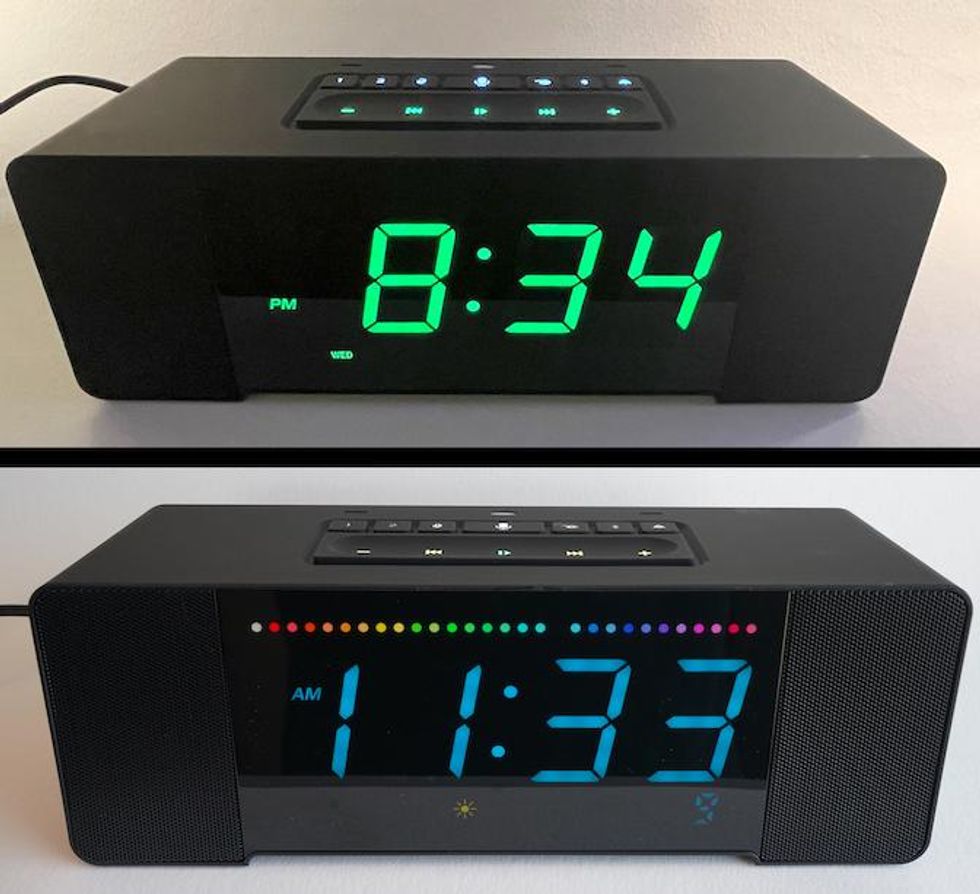 You can use the big buttons on the top to change the type's color and brightness on the screen.Terry Sullivan / GearBrain
Smart features and basic functionality
One of the cool features of this clock is that you can integrate it into your home or Amazon Alexa smart ecosystem. Once the speaker was connected to the mobile app and my Amazon Alexa account was logged in, I found it easy to ask Alexa to set an alarm as well as ask Alexa other questions. However, as I mentioned, it depended on a reliable Bluetooth connection. Once done, it was easy to set up an alarm, and also ask Alexa other questions.
But the Sandman Doppler just doesn't have any smart features. In many ways, many of its basic features, such as changing the color or brightness of the screen, are its best features. You can change the clock display to one of 29 different hues and set it to a variety of brightness levels, which is important when you sleep. Overall, I was impressed with the large, clearly labeled buttons. This is important if you cannot access your phone and need to turn off your alarm. On this clock, you can just press the bell button to turn off the alarm. Or press one of the buttons in the bottom row to repeat.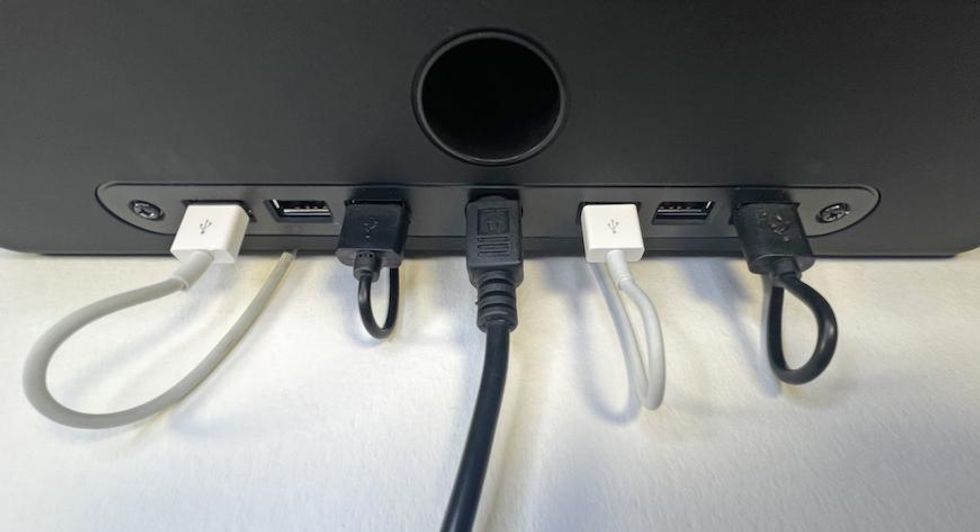 The Sandman Doppler has a few well-designed features, like that little space under the clock, which allows you to run cords through the front of the clock without creating a tangle of wires.Terry Sullivan / GearBrain
The charging station, which is on the back of the clock, is perhaps the most basic feature, but it fulfills an important need, because these days most of us charge all kinds of things. 'devices: phones, smartwatches, wireless headphones, tablets. , etc. I found the design of the charging section to be impressive, as it includes a narrow space under the clock where you can run USB wires from the six ports on the back of the clock to the front without creating a tangle of threads. For those who want to charge newer products, like some laptops, you can purchase a module that allows you to replace three of the old USB ports and replace them with newer USB-C ports. However, the upgrade costs $ 25.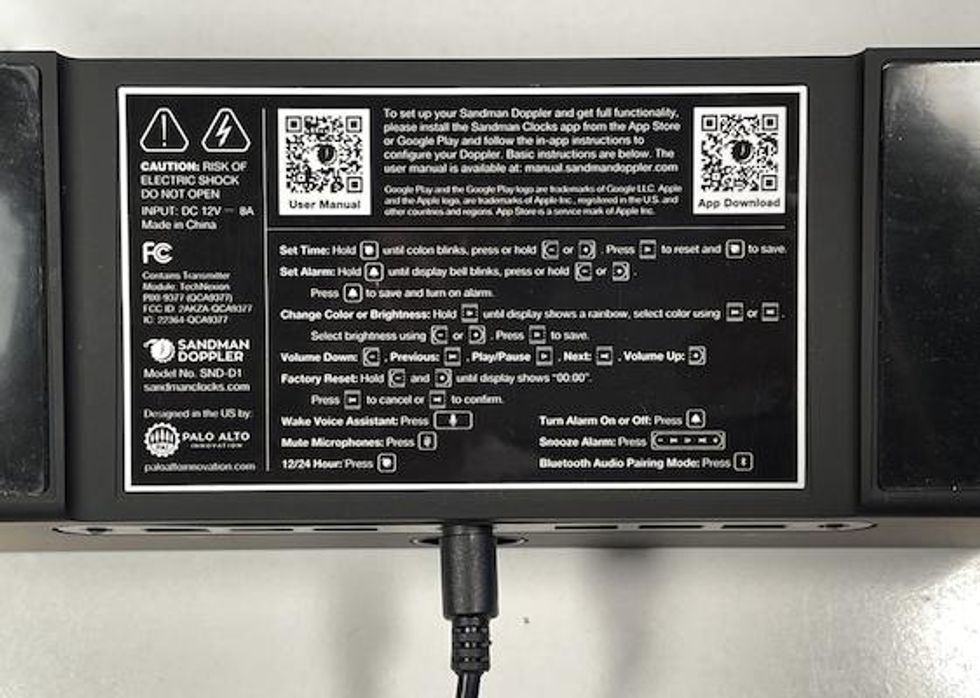 It was a pleasant surprise to see that the manufacturer included quick and useful features right at the bottom of the Sandman Doppler clock, as it's easy to lose track of physical user manuals as well as online manuals.Terry Sullivan / GearBrain
Price and is it worth buying
At $ 199.99, the Sandman Doppler USB Charging Smart Clock, available in three different colors – Blackout, Moon Gray, and Midnight Blue, is quite expensive for an alarm clock, although it is comparable to most smart displays that include digital time displays. However, the clock is beautifully designed and solidly constructed. It also has a large and beautiful screen to display the time and the day of the week. I have found some usage issues with the Sandman Clocks mobile app, which I hope will be fixed. But the good news is that unlike hardware, a mobile app can be updated to include new features.
Benefits:
The display is crisp, clear, but can be changed to different colors and different brightness levels
Very easy to set up
The controls are large and are clearly labeled
Smart design lets you prevent cords from tangling
Powerful 6-port charging station
The inconvenients:
Expensive for a wireless speaker with average audio quality
If you want new USB-C ports, it costs $ 25 more
Sandman Clocks app should include easier access and fix bugs