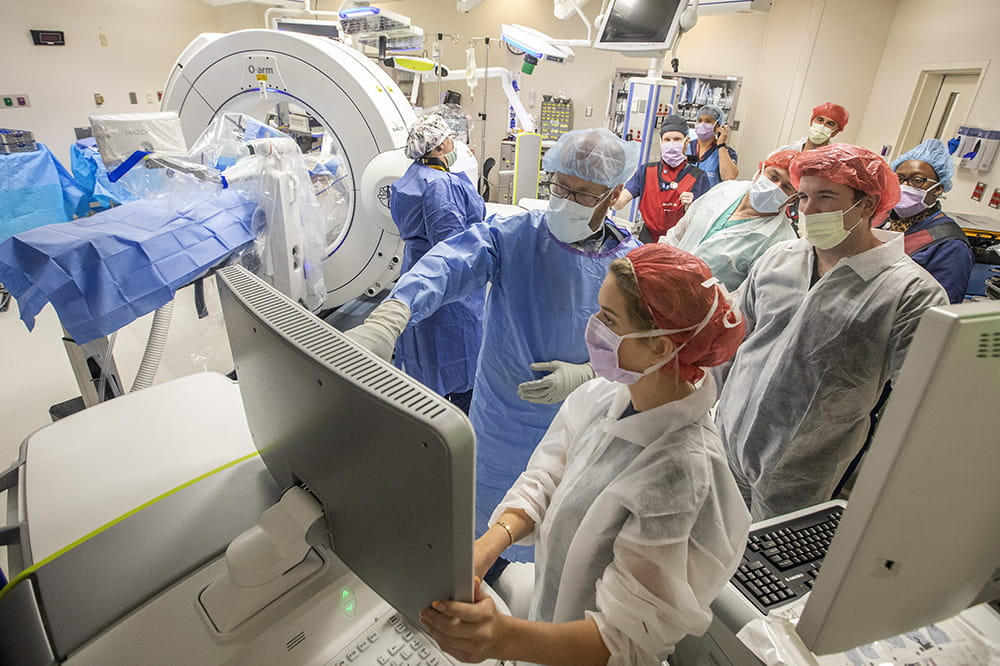 Spine Center Adopts Robotic Technology | MUSK
Lying on her hospital bed in an operating room as the staff busied themselves preparing for the operation, the patient quietly teased the doctor, "Do you have all your toys?"
He did, he assured her. His surgery was to be the first in the MUSC Health-Charleston division to use the Mazor X Stealth robotic system and Medtronic O-arm mobile x-ray machine. But these "toys" are more than shiny new toys for surgeons. Neurosurgeon Bruce Frankel, MD, believes they will enable physicians in his division to continue to innovate and improve surgeries for patients, placing MUSC Health at the forefront of spine surgery offerings.
The patient was clearly in pain, grimacing as the anesthesia team lowered the head of the bed as gently as possible. The surgery, a microdiscectomy, was to treat this pain. It is a common procedure to treat a herniated disc in the spine that presses on nerves, causing sciatica.
However, it is not commonly performed with the Mazor X. Although the robotic system was not designed with discectomy in mind, Frankel wanted to see if the imaging and navigation capabilities of the system could allow for a greater precision when performing this surgery.
"That's how you challenge yourself to adopt newer technology to improve older surgery," he said.
While robotic surgery has become almost commonplace in other specialties, it is still very new in the field of spine surgery. In recent years, some studies comparing robotic surgeries to traditional methods indicate that common spine surgeries performed with robotic assistance could result in more precise screw placement, less blood loss, and even shorter hospital stays. for surgeries requiring hospitalization. But the techniques and protocols are still in development as surgeons explore the possibilities with robotic systems from different companies that have been introduced in recent years.
Doctors at MUSC Health's Neurosurgery and Orthopedic Surgery practice examined five of these systems and reported their findings to hospital management. Although MUSC has a value-based healthcare partnership with Medtronic, which owns Mazor, the partnership did not drive the decision to pursue the Mazor system – quality did. However, now that the healthcare system has acquired two of the Mazor X Stealth robots, there are opportunities for further innovation under the partnership, said Caroline Brown, director of external affairs.
Part of this innovation will happen at MUSC Shawn Jenkins Children's Hospital, which will become the first pediatric hospital in South Carolina to have the Mazor X Stealth robot.
"We are thrilled to announce the implementation of this breakthrough technology for the most complex pediatric patients with spinal deformity," said Robert Murphy, MD, Chief of Pediatric Orthopedics. "We can provide the safest and most up-to-date orthopedic surgical care for children and adolescents with spinal deformity and related spinal conditions."
After completing his first Mazor X operation – which went well, with the patient going home the same day – Frankel said he expects him to continue using it for discectomies, with some adaptations.
"It gives you that precision that you didn't have before," he said.
The system works by taking images of the spine and then mapping the images to the patient on the table. This allows the surgeon to program the robotic arm to insert a port at a precise angle and location. Previously, Frankel said, this required multiple x-rays at each stage of surgery.
"It's constant fluoroscopy," he said, referring to real-time moving x-rays. "It can take several minutes in complicated cases. Whereas with this it is an O-arm rotation. It decreases the fluoroscopy time, which is better for the health of the patient and for the health of all the people in this room who are also irradiated."
Frankel then performed a transforaminal lumbar interbody fusion – a fusion of two vertebrae – using the Mazor X. In the coming months, he will use the system for the majority of his surgeries. He expects that as he understands the strengths and limitations of the system, he'll probably just use it for about three-quarters of his cases.
"This system, with its imaging, navigation and robotic assistance capabilities, will allow us to further refine the surgeries we offer at the Spine Center and improve the patient experience in hospital and their recovery at home. home," he said.